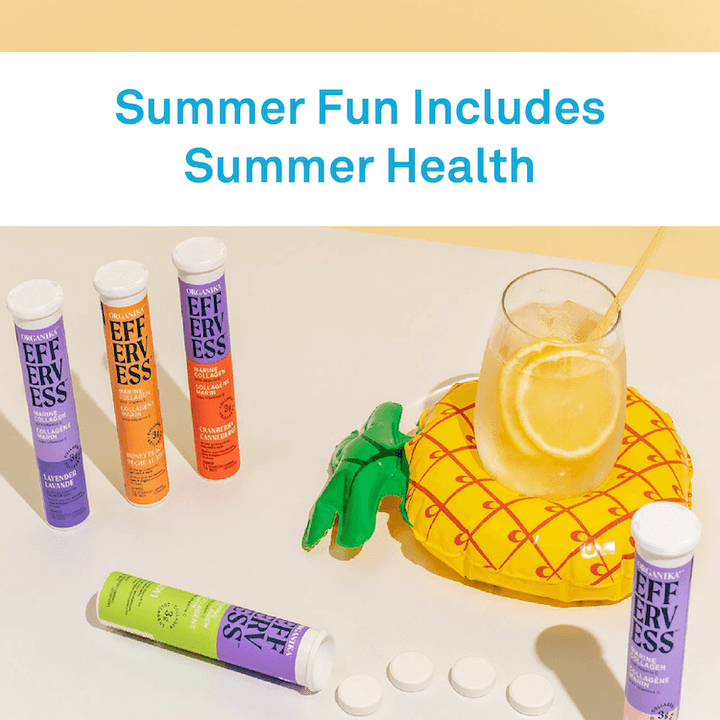 The Best Supplements to Take This Summer
Summertime means fun.
With the sun shining longer comes outdoor events, gatherings, eating BBQ and frozen treats, and heat! With all the summer fun, it's a good time to incorporate summer health and wellness into your routine... but make it easy.
How do you do that?
Simply take the things your body needs most this summer and look at fun options to incorporate them.
Don't sweat it, we have your needs covered.
Best supplements to take in summer
To keep summer fun flowing, here is a summer supplement checklist. Based on what is most often recommended by nutritionists seasonally, here are the top supplements to consider when the sun is out in full force.
Vitamin C and immune boosting support
Hair and skin support
Hydration helpers
Detoxification
Digestive enzymes
Collagen
Let's dive into these a bit more... 
Power up your hydration
Staying hydrated to beat the heat and recover after activity means much more than just drinking water. In fact, during sweat and intense exercise, key essential minerals are depleted: magnesium, potassium and sodium to be exact. Sports drinks are often filled with sugar or additives that are not exactly "healthful."
Alternatives we suggest:
Electrolytes play several important roles in the body, including hydration, maintaining water balance, muscle contraction, nerve impulses and temperature regulation. We lose electrolytes when we sweat, lose liquids due to sickness, or consume large amounts of dehydrating substances like alcohol and caffeine.
Electrolytes + Enhanced Collagen™ also includes 5 g of hydrolyzed bovine collagen in every serving.
Make it iced
Keep up with your health, wellness, and beauty, goals but keep it delicious. Using powdered supplements that blend easily into yummy summer recipes such as frozen treats, iced coffees, or milkshakes make it a fun way to keep healthy without compromise.
Taking collagen year-round is recommended, but for summer why not try it iced?

We suggest:
Collagen is great anytime! As the most abundant protein in the body, and one that declines with age, it's important to supplement it to better support bones, joints, gut, hair, skin and nail health. It's also important to consume hydrolyzed collagen peptides that your body can digest easily and incorporate into the body. 
Protect and glow on the go
Summer brings outings, gatherings and even festivals. Being the year where everything is open once again, you may be considering how to keep summer fun while also upping that immunity with ease. For that there's fizzing tablets for convenient on the go protection and glowing skin so you can look AND feel your best.

We suggest:
All the above are convenient to take on the go. Other than the Vitamin D (tincture that you can drop in your mouth or drink), these supplements are in effervescent tablets that you just drop in water, watch fizz and enjoy. Easily enjoy the benefits of boosted health while enjoying your enhanced beverage.
Digestion and detoxification
This summer, keep your gut in order. While eating BBQ, festival food, or fast food, it's important to ensure that your gut is ready for all the fun to come.

We suggest:
While your diet may be different than in other months, there are two additional items that may be helpful should you be consuming alcohol or have gout this summer.
Detox Drops - chlorophyll drops to detox which can also help with perspiration
Goutrin – when indulging in more red meats, this can prevent flareups
This summer feel your best with less sugar, but still loads of fun. Armed with these supplements in hand, make it the best one yet!