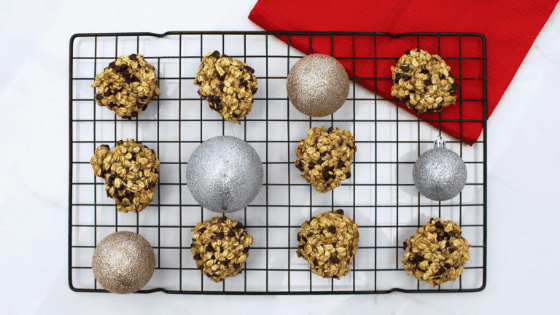 Eat + Drink
The 1-Bowl Collagen Cookies to Impress at Your Holiday Party!
Rhiannon Lytle
Your evenings have been booked all week long for various holiday parties or the kids' school plays. Yup... 'tis the season! Oh, and not to mention you totally forgot about your work potluck tomorrow, and you are supposed to bring cookies!
Lucky for you, we have a recipe 
that only requires one bowl, and takes less than five minutes to mix together. Now, if that isn't a Christmas miracle, then we don't know what is! 
On top of that, if you feel like you've been a little indulgent already this season, then these are the cookies for you! No refined sugar, no gluten, no dairy, but good for you foods like:
Fibre (from oats)
Iron (again, from oats)
Magnesium (from chocolate... it's not always bad for you)
Healthy fats
Protein (from collagen powder)
Wait, did we say collagen? Yes friends, yes we did!
Since collagen is flavourless, it's an easy ingredient to add to nearly any baking! Plus, Enhanced Collagen is hydrolyzed, meaning it still maintains its health benefits even after being heated up. It is important to remember that collagen is powder, so if you're adding it to you grandma's famous shortbread cookies, account for adding more dry ingredients!
Chocolate Chip Collagen Cookies
Ingredients:
2 very ripe bananas (like the ones with lots of spots)

2 medium eggs

2 cups of rolled oats

½ cup oats, ground OR ⅓ cup oat flour

3 tbsp. Enhanced Collagen (can also use Enhanced Collagen Relax or Marine Collagen)

½ cup of unsweetened chocolate chips

Pinch of salt

Pinch of cinnamon

2 tbsp. maple syrup (optional)

2 tsp. baking powder

1 tsp. vanilla extract

1 tbsp coconut oil (plus more to coat baking pan)
Directions:
Preheat oven to 350 degrees Fahrenheit.

Mash bananas using the back of a fork.

Stir in eggs and vanilla extract.

Add rolled oats, oat flour, baking powder, salt, cinnamon and collagen. Mix thoroughly.

Melt coconut oil in microwave or on the stove.

Stir in coconut oil and chocolate chips.

If you think it needs a little extra sweetness, add maple syrup.

Coat baking sheet with coconut oil (use your hands or a paper towel to spread it around). Form mixture into balls, and lay on baking sheet. Push each cookie down with the back of a fork.

Bake for 15-20 minutes (or until the bottom is lightly golden brown).
*Note: it may be a little goopy when wet, that's normal!
A few other items that you can add: 
Nuts or seeds
Coconut flakes
Dried fruit
Looking for some new ways to add a little health kick to your holiday baking?
Here are a few more of our favourites: 
What are your favourite holiday treats to bake? Head over to our Instagram page and tell us!