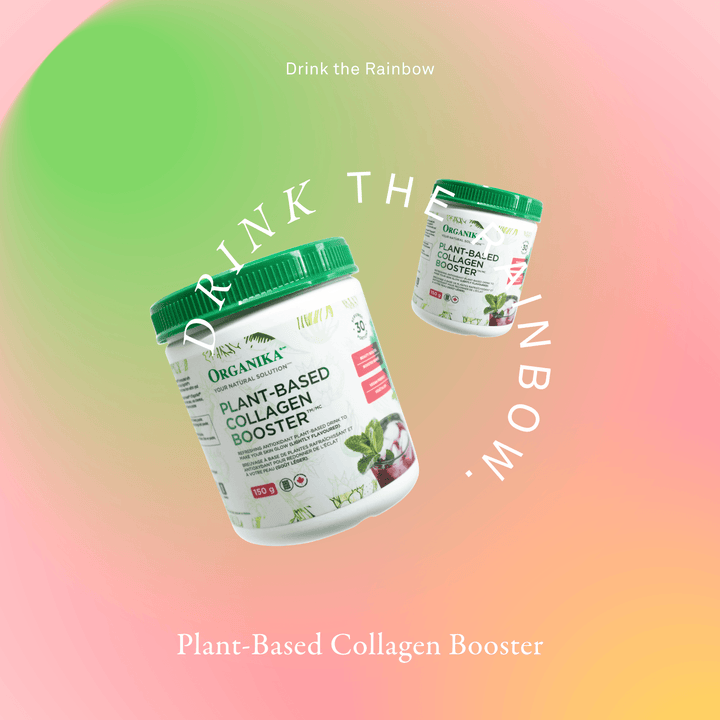 Updated on July 17, 2020.
Wanting fuller hair, stronger nails, firmer skin and healthier joints (all while being on a plant-based diet)? We've created the Plant-Based Collagen Booster just for you! If you're a plant lover, you've likely heard about the benefits of collagen and have been waiting for a plant-based option to add into your morning smoothie, coffee, tea or baking.
While our collagen line uses animal-based collagen as the building blocks for healthy bones, skin, hair and nails, this plant-based booster provides our bodies with the necessary vitamins and amino acids to help us create our own without directly consuming animal products.
The Plant-based Collagen Booster uses ginseng and carrot peptides to mimic the role of animal-based peptides. These help to boost the body's natural collagen production. The key synergistic ingredients in this product can help to improve the health of your skin, hair, nails, joints, and digestive system, as well as help the body protect itself from UV and free radicals. The best part is that many of these ingredients also help support the body's natural detoxification process! 
Here's a breakdown of our Plant-based Collagen Booster's key ingredients, and how they can help you!
Moringa powder
The Moringa oleifera tree has its origins in India, Pakistan and Nepal, and has been used for centuries to treat ailments such as digestive, skin and liver disorders. With antifungal, anti-inflammatory, and tissue-protective properties, moringa is a nutritional powerhouse that can help the body's enzymatic reaction in collagen synthesis. Rich in antioxidants, potassium, calcium, and iron, moringa can help reverse oxidative stress in the liver, supporting detoxing.
Golden Bamboo
Native to China, this plant contains one of the best natural sources of silica. This is traditionally used to strengthen the body's connective tissues and is a key nutrient for collagen creation. Silica, combined with Golden Bamboo's high dietary fibre content, can help the colon remove accumulated waste and toxins. Plus, the antioxidants, particularly vitamin E, found in this plant help to protect the body against free radicals. As you may know, free radicals can be damaging to our hair and skin.  
Bonus! Golden Bamboo also contains flavonoids, which are made up of phytonutrients like quercetin. Research shows that quercetin helps fight inflammation, which may even help mitigate spring allergies.
Red Ginseng
Originating in Korea, red ginseng is traditionally used to help boost the immune system, increase energy, and prevent wrinkles. This plant also contains glycoproteins, which help regulate hormones, protect cells, and help strengthen and stabilize tissues. Plus, its anti-inflammatory properties can help destroy free radicals in your blood, which can cause degradation and reduce our body's ability to produce its own collagen.
Carrot protein
Similar to the benefits of red ginseng, carrot protein contains glycoproteins, which are a main component of the dermis matrix and helps to prevent wrinkles. Glycoproteins also improve the body's immune response and formulation of collagen. The vitamin C content also helps the body create collagen as it acts as a cofactor for collagen synthesis.
Astaxanthin
This carotenoid has 6000x more antioxidants than vitamin C, helping protects cells from free radical damage.  It's also linked to improved skin elasticity, reduced appearance of age spots and wrinkles, and reduced inflammation and joint pain, especially for those suffering from rheumatoid arthritis
Pink dragon fruit, acerola cherry & lemon 
This blend is high in vitamin C, which can help your body produce collagen and protect you against the oxidative stress caused by free radicals. Additionally, iron helps you grow strong and healthy hair since it aids in the absorption of iron, a necessary mineral that stimulates hair growth. These fruits are also high in dietary fibre that can help the body dispel waste and toxins.
Enjoy the refreshing, lightly-flavoured Plant-based Collagen Booster
on a daily basis, and get ready to feel healthier from the inside out!