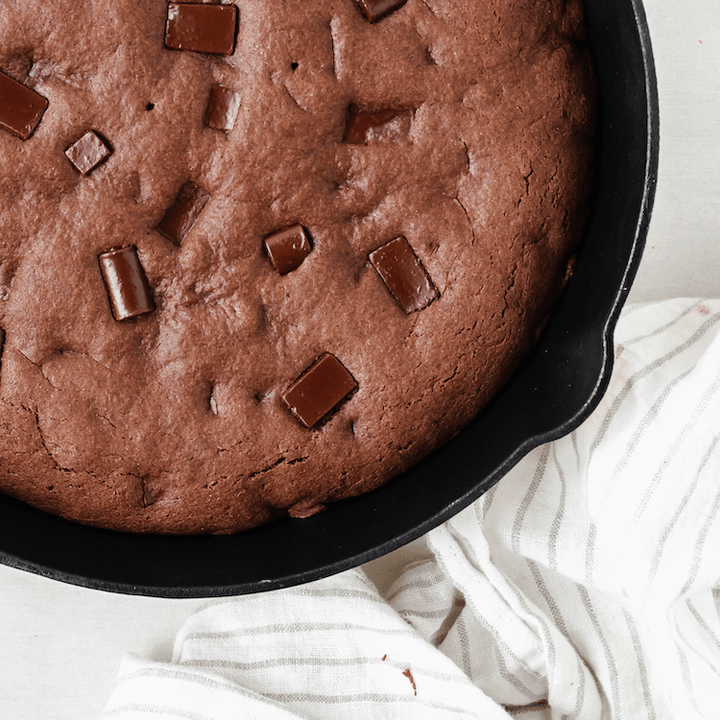 recipes
Fudgy Collagen Cookie Skillet
Organika Health
This cookie skillet has "have your cake and eat it too" vibes all over it. You get a delicious decadent treat with health benefits. It doesn't get any better than this. Such a fun dessert because you can eat it right out of the skillet if you want to... and tastes so good when it's warm. Especially when you top it with ice cream (hint…salted caramel ice cream on top is an absolute dream). And to top it off (no pun intended), it's gluten-free and dairy-free.
Serves 8
Fudgy Collagen Cookie Skillet
Ingredients
2 eggs
½ cup coconut oil, softened
1 cup coconut sugar
2 tsps pure vanilla extract
2 cups gluten-free 1:1 baking flour
½ tsp baking soda
¼ cup cacao powder
4 scoops Chocolate Enhanced Collagen
¼ tsp sea salt
⅔ cup chocolate chips (plus more for topping)
How-to
Preheat the oven to 350°F and lightly grease a 10 inch cast iron skillet
In a large mixing bowl, add the eggs, coconut oil and coconut sugar - Mix with a handheld mixer until smooth
Mix in the vanilla
Add the flour, baking soda, cacao powder, collagen and salt - Use a spatula to mix
Fold in the chocolate chips then use your hands to form the dough into a ball
In the cast iron skillet, flatten the dough into an even layer, making sure it is right to the edges
Add some more chocolate chips because, why not?
Bake for 18 to 20 minutes (check on it around 15 minutes) or until the edges are golden brown and the center is soft when you put a knife or toothpick in it. Underbaked it ok here!
Let it cool for five to ten minutes for a warm cookie or a little bit longer if you prefer
Slice or eat right from the skillet or top with any flavoured ice cream
Enjoy!