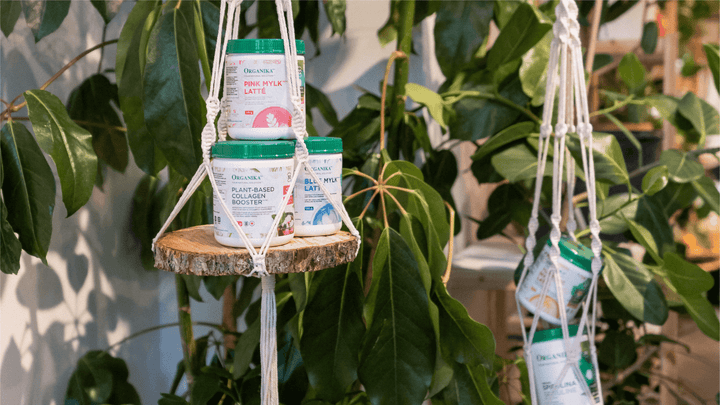 Trying to challenge yourself with the 30-day vegan challenge or are you a vegan babe already? Meet our Plant-based A-team, some of our favourite plant-based supplements and superfood blends!
The daily staple

Spirulina is one of the most nutritious plant-based supplements out there. Itshould really be a daily staple in every plant-based diet! It's an amazing source of vital nutrients like vitamins (especially the Bs), fatty acids and minerals. Iron gets an honorary mention, since most vegans could use a little more of it. It also contains one of the highest amounts of plant-based protein in the world; it's one of the few plant sources containing all the essential amino acids, making it a complete protein! We love it in smoothies, energy balls or as a seasoning for savoury recipes and snacks. Try it out with this green-powered hummus recipe!  
The beauty booster

Vegans worldwide had to miss out on hopping on the collagen bandwagon while waiting for a plant-based alternative. Luckily, Plant-based Collagen Booster is now a reality, so everyone can get their glow on, no matter what diet they subscribe to! The ingredients work together to boost your natural collagen production while slowing down collagen breakdown. The Booster's light citrus-y taste goes great with refreshing cold drinks, smoothies, or any raw recipes! Get a taste with this delish raspberry lemonade recipe.  
The healthy pick-me-ups

Inspired by moon milk, a traditional Ayurvedic remedy meant to help you get a better sleep, Mylk Lattes are plant-based blends that can be enjoyed anytime and also look dreamy! Loaded with superfood ingredients like golden turmeric, pink pitaya, butterfly pea flower and adaptogenic mushrooms and herbs, each flavour has unique benefits to suit your wellness routine. (Look out for our limited edition Pumpkin Spice Mylk Latte, which is in stores now!) Mylk Lattes are an amazing treat with warm plant-based milks. You can also use them to make beautiful, colourful baked goods and other treats! Check out this gorgeous Blue Mylk oats recipe to see what we're talking about!
xx Peace, love and plant-based goodness, The Organika Team